exaSys offers a wide range of IT services. This includes secure hosting in our Swiss data center which is located in the greater Zurich area. Our team consists of uncomplicated and highly qualified specialists who have accumulated their knowledge in various IT areas. Coupled with ongoing training, this results in a very wide-ranging know-how.
The company was founded in 2009 as a subsidiary of HiHo AG. The aim at this point was to advance the expansion of IT services. HiHo was established in 2002 and currently offers hosting and housing services. Both companies were transferred in early 2011 to the holding company TGS Group as a consequence of an internal reorganization.
exaSys is 100% self-financed. Continuity and a sustainable growth are important to us. In addition to the TGS Group, Daniel Kunz is involved in exaSys.
What means exaSys?
exaSys consists of two parts: exa is the greek word for "above all" or "6 times". In mathematics this means 1018 wich is similar to a trillion. Mega, giga and terabytes are today common terms. Big IT companies are already equipped with an exabyte storage capacity.
After today's experience, the capacity of hard disks is doubled every year. Currently, a modern computer features between one and two terabyte. If the development continues at the same pace, an exabyte hard disk will be found in our computers is in about 20 years.
The sys of exaSys stands for "system". This term is used in computer science for computers or entire IT environements.
Philosophy
Our main goal is to provide sustainable added value to our customers through our services. That is why we take plenty of time to understand your business and your specific needs. This approach combined with our many years of experience allows us to advise you goal-oriented in technical decisions and to provide tailor-made solutions.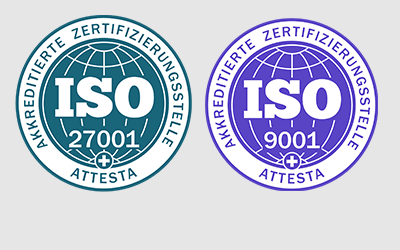 ISO certifications
Quality-conscious, certified
exaSys is ISO certified for areas such as network services, housing (operation of third-party IT environments), hosting (rental / operation of IT environments), outsourcing, consulting and software programming.